About Something Called Site Build It
The Story of How SBI Made an Online Home Business Dream a Reality
Site Build It, or SBI, is an all-in-one package of services and products that helped me build an online home business that works.
If you read my About Jim page, then you know that I decided to change careers from system engineer to math teacher a few years ago. I'd worked in government contracts for the FAA and the U.S. Navy for around 20 years as a system engineer, work that I enjoyed, but the corporate culture was not for me.
So, in 2005, I took a bachelors degree in math, my years of putting math to work in engineering and an alternative masters program in education and became a math teacher in public high school... and it did not go well.
First off, I had trouble finding a permanent job with my lack of experience, and the jobs I did find were not ideal. My burning desire to make a difference in young people's lives and to help them master math concepts was not really a great fit in today's high school environment. Not to sound like an old guy, but kids today are sure different!
To make a long sad story short, by the end of the 2007/2008 school year, I'd had it. Three different positions at three different schools in three different western towns and nothing was different. Clearly, I was never going to find what I was looking for as a high school math teacher!
Next Try... Could I Follow in Kathi's Footsteps?
My wife Kathi has had a lot to do with the latest version (I call it the 2.0 version) of this website. But back in 2008, when I quit my teaching job, I decided to take my passion for the smart car and see if I could follow in Kathi's footsteps as an online home business entrepreneur.
You see, Kathi'd been building websites using something called Site Build It! (SBI) for quite a few years by then. And she was making a good amount of money every month too! She'd built informational, or content, websites on writing a resume, motor scooters, Acadia National Park and recipes. Those were HER passions and she was loving pursuing them.
So, I started to think, "Why not me?" Why couldn't I do the same thing?
So, off I went to become an "SBIer" and start building a website – or online home business – around the brand new smart car that was just hitting the streets of the U.S. for the first time.
So What Is SBI?
SBI originally stood for Site Build It, but the company is now going just by its acronym (gotta love it!) because it's actually so much more than just a website builder. Here's how they describe what Site Build It 2.0 is:
"SBI! is the unique all-in-1 package of process, software, guidance, and help that enables anyone to create Web sites that build profitable businesses at unmatched rates of success."
Of course, I was really lucky to have Kathi as my SBI in-house coach and mentor, but what I like about this product is that the process is simplified to such a degree that success (i.e., profits, not the mere presence of a Web site) is achievable even for a beginner like me.
There's a manual called the Site Build It Action Guide that teaches you a step-by-step process, presented in both written and video formats. All you have to do is follow it. It's what Kathi did, way back when, and many other successful SBI! owners say "all they did was follow the Guide" too. You never have to get sidetracked, or have to guess at what to do next. Site Build It!'s guided approach helps you reach your goals. And for someone like me, who's more than a little ADD... that's huge!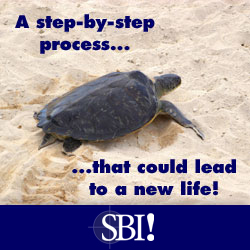 Too many non-SBI! sites start without profits being "built into" the process from DAY 1. It all begins with the right process, and believe me... as a former systems engineer, I love processes! Content

Traffic

PREsell

Monetize is the underlying, logical and powerful process that capitalizes upon the fundamental realities of how people use the Web. C

T

P

M puts you on a solid, profitable business foundation.
When it's time to create your site, SBI! is there with hundreds of fully customizable, easy-to-use templates. You can choose and create a professional-looking site, even if you have no design skills. And if you're a designer, you can create and upload your own. Kathi helped me take my vision, using one of the standard Site Build It templates, and make it a reality.
Also, new tools are added continuously so you can feel secure that you'll always have the most up-to-date site-building and marketing tools. They're worthwhile tools, though, not just every new fad or trend being hawked by the latest self-proclaimed "guru."
When you enter the SBI world, you start to hear a lot about tortoises, which might seem a bit weird. But it's simple really... The tortoise approach symbolizes SBI!'s steady-and-sure approach to building an online home business.
It's definitely not GRQ (GetRichQuick) and keeps you from getting distracted by false promises or dead-end tools and strategies that just end up costing you more and more money. Think of it as a simple, direct, hype-free path that leads to success.
And the Site Build It founder, a guy named Dr. Ken Evoy, provides a rare level of dedication to his customers. He's extremely active in the SBI! forums with over 5000 posts to date. He makes a tremendous personal effort to help people succeed and is highly passionate about helping people build businesses online. As another passionate guy who loves to help people, I can relate!
Anyone who owns SBI! can benefit from this extraordinary Internet business visionary. And talking about the SBI forums, what a wonderful, valuable community of fellow SBIers who act as unofficial coaches, mentors and masterminds... for free. The spirit of sharing and "paying it forward" is truly remarkable.
And for you skeptics out there... you know who you are... SBI! has a no-risk, 30-day money back guarantee. So building an online home business using Site Build It is a risk-free decision that you can make with confidence and peace of mind.
My SBI Journey
My SBI story hasn't been a smooth one. The year I started this site was a rough year for me, personally. I was in crisis about my teaching career and though I took time off to pursue this online home business, I guess I wasn't prepared for the recession that hit almost the same time.
I worked hard at this site for a good 3 or 4 months and made a great start. But with my own dreams of owning a smart car fading due to my shaky financial situation, and no immediate income being generated by the site (this business model is NOT get rich quick, remember?), I started to flounder... I didn't trust the SBI process.
Eventually, I found I did still want to teach math and I managed to find a job where students really DID want to learn math... at our brand new local community college. It's turned out to be a great fit for me, career-wise, and I'm finally making a difference in students' lives the way I'd dreamed I would. It's very rewarding.
And as you've seen on the site... I got my smart car too! I never lost my passion for this innovative car and I love the statement it makes about the future. But with all my new teaching responsibilities... I pretty much stopped working on my site for over a year. I still did the occasional blog post, but that was about it.
But guess what? My website kept chugging along and traffic started increasing, bit by bit, and after a while... I actually started making money... without even really trying... or working at it! Kathi says, "That's the SBI process at work!"
Imagine what would have happened if I'd actually kept at it, instead of getting sidetracked by other things?
Well, that's exactly what Kathi said during the summer of 2010 and being the "take charge" kind of woman she is, she took over my site for a few weeks and added over 70 pages of new content! And that got ME interested in working on it again... just in time for the entry of the first electric smart car into the U.S.
So now, Kathi and I are partners on the site. I supply the passion... the ideas... and some of the writing... and she keeps it running, day to day. Sometimes it takes a team to take an idea to a successful conclusion.
Bottom line... anyone can succeed with an online home business using Site Build It. Don't follow my example... DO follow the SBI Action Guide and DO keep plugging away at it... and chances are, you'll start making money MUCH sooner than I did!
Your "Smart Car Guy",

Want to Learn More About SBI?
If you're interested in learning more about Site Build It and the people behind it, then here are a few links you can follow:
Or if you want to get a feel for SBI and the quality of the instruction you'll be getting when you join, then take a look at the SBI Blog, where you'll find tons of interesting articles, such as this one on the Entrepreneurial Mindset.
And when you're dong with all that, if you still have questions about Site Build It? Feel free to email me or you can even ask an official SBI user anything and they'll get back to you with answers promptly. Really.